Clever Champions Program
A community of administrators passionate about the future of education
Who is a Clever Champion?
A Clever Champion is someone who isn't satisfied with the classroom of today and is working to change learning for the better. We're looking for forward-thinking administrators who have a vision for what learning can look like, and want to work together to power that vision.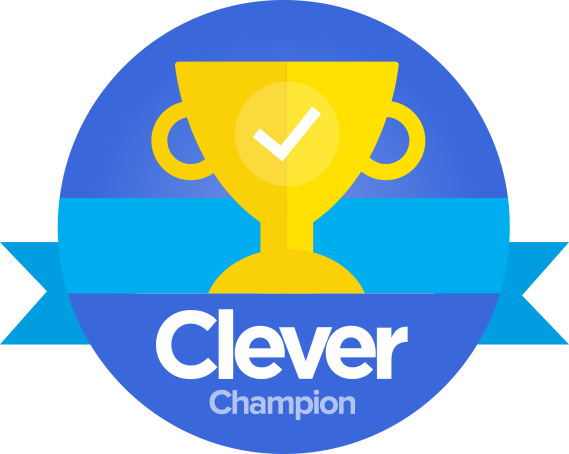 Why do I want to be a Clever Champion?

Exclusive online community
Connect with other Champions and get ideas for how to use technology in your district.

Early access to new features
Get the opportunity to test and give feedback on products before they're released.

Speaking opportunities
Present with Clever at industry events and have your voice heard as an edtech influencer.

Event invitations
Attend events where you can meet other Champions, learn about upcoming products, and build your network.

Spotlight on our blog
Build your personal brand by writing for our blog or being featured in our blog series.

Specialized resources
Get personalized resources to use at your district or to present at school events.

Online recognition
Include your name and bio on our website as a featured technology advocate.
Meet our Champions
Scott Smith
Assistant Superintendent for Elementary Instruction and Technology at Mooresville Graded School District
Ardee Chua
Technical Advisor at Metro Nashville Public Schools
Lisa Spencer, Ed.D.
Executive Director of Instructional Technology & Support at Prince George's County Public Schools
Mark Racine
Chief Information Officer at Boston Public Schools
Tim Harper, Ed. D.
Chief Information Officer at Seminole County Public Schools
John Krull
Chief Information Officer at Seattle Public Schools
Sam Mendez
EdTech Coach at Madera Unified School District
Youssef Antar
Chief Information Officer at Prince George's County Public Schools
Adam Cannarrella
Supervisor, Information Systems Analyst II at Duval County Public Schools
Darlene Rankin
Director, Instructional Innovations at Katy Independent School District
Beth Raker
Instructional Technology Coordinator at Penn Harris Madison School Corporation
Tyler Mallet
Director of Instructional Technology at Jefferson Parish Public School System
DeWayne Cossey
Director of Information Technology at Vista Unified School District
Ed Bischoff
Network Specialist Media & Instructional Technology Dept. at Osceola County School District
Tischann Turner
Director of Instructional Design at Metro Nashville Public Schools
Arden Ward
Technology Support Specialist at Rutherford County Board of Education
David Parisoe
Digital Content Systems Architect at Lake County Schools
Brett Reynolds
Technology Analyst at Collier County Public Schools
Ernest Longworth
Assistant Director of Technology at Chesterfield County Public Schools
Athena Matherly
Senior Manager - Innovations at Charter Schools USA
Susan Oehlertz
Technology Integrationist Specialist at Pocahontas Area Community Schools
John Mairs
Technology Director at American Renaissance School
David Thurston
Director of Information Technology at Colton Joint Unified School District
Tiffany Markley
Instructional Technology Director at Morgan County Charter School System
Diane Hauser
Senior Program Director, Boston Public Schools Technology
Jay Parker
Director of Student Applications and Web Development at Charlotte-Mecklenburg Schools
Erika Oliviera
Digital Textbook Resource Coordinator at Katy Independent School District
Bruce Douglas
Director of Information Technology at Springfield School District R12
Josh Shaw
Instructional Technology Specialist at Baltimore City Public Schools
Join the community of Clever Champions
Looks like you've blocked Marketo - please re-enable and refresh to join the community.
Sign up as a...
District Admin
Application Partner