CURRICULUM TEAMS
How are curriculum teams using Clever?
To achieve their instructional visions and unlock new ways to learn for all students. From discovering new tools to monitoring implementations, Clever supports every step of turning your edtech goals into reality.
Rollout edtech even faster
Once your district decides on a new edtech purchase, teachers and students need accounts, set up in the right classes, and with the right access rules. Clever does all of this work for you so you can spend your time on supporting teachers, and so that valuable training time isn't spent on getting set up.
Curate and share resources
Clever Portal is a great way to get important tools and information into the hands of teachers. Add weblinks or edtech apps that you want teachers to use, and since teachers are already logging in to Clever every day, these resources will be easily accessible and highly visible.
Learn more
Discover and evaluate new tools
When it's time to figure out what edtech to purchase, Clever can help you every step of the way. Discover resources in the Clever App Store, and read reviews or see a demo instantly. You can get instant pricing for some tools, and when you are ready to move forward, Clever gets you in touch with the right people.
Check out the App Store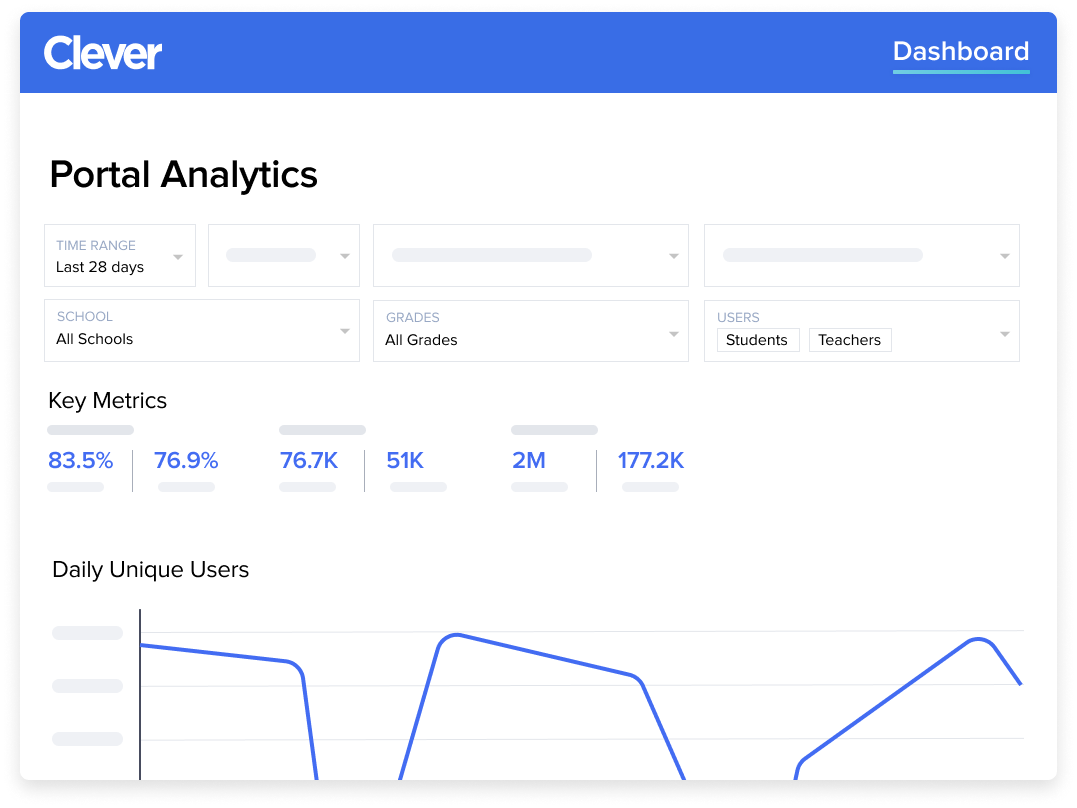 Monitor your edtech implementations
Clever Analytics offers insights that help you and your team understand edtech engagement to support informed planning and purchasing decisions. Our intuitive dashboards provide comprehensive reports for districts, along with daily and weekly overviews of student engagement for teachers. This means everyone has the data they need without having to sort through information that's not relevant for them.
Clever supports your entire district
We know how important it is for everyone in your district to be connected when it comes to instruction. Clever's tools for teachers, families, and admin bring your edtech ecosystem into one place.
Learn more
Sign up as a...
District Admin
Application Partner